Regreening Africa's goal in Ghana is to create a sustained approach to reversing land degradation and integrating food production through agroforestry. Regreening Africa addresses pressing challenges in Ghana's savannas: extreme and prolonged dry seasons, overgrazing, uncontrolled fire, declining tree cover, loss of indigenous biodiversity and increased soil infertility.
Regreening Targets
80,000 hectares
40,000 households
Sites
Upper East Region: Bwaku West and Garu Tempane districts
Northern Region: Mion District
Partners
World Vision Ghana
Catholic Relief Services
ICRAF Sahel
National and local governments
Approaches to reversing land degradation
Level 1: Direct interventions with the communities in three districts
Introducing farmer-managed natural regeneration to farmers and communities
Training of leading farmers, peer-to-peer farmers and farmers' groups to champion expanding the scale of farmer-managed natural regeneration and other agroforestry practices
Level 2: Interactions with policy makers through multi-stakeholder campaigns and advocacy strategies
Local champions and community leaders lead the process of communicating the benefits to policy makers to encourage expanding the scale
National-level multi-stakeholder workshops through the SHARED process to influence policies and practices in favour of land restoration.
Project Sites
Bwaku West District
Garu-Tempane District
Mion District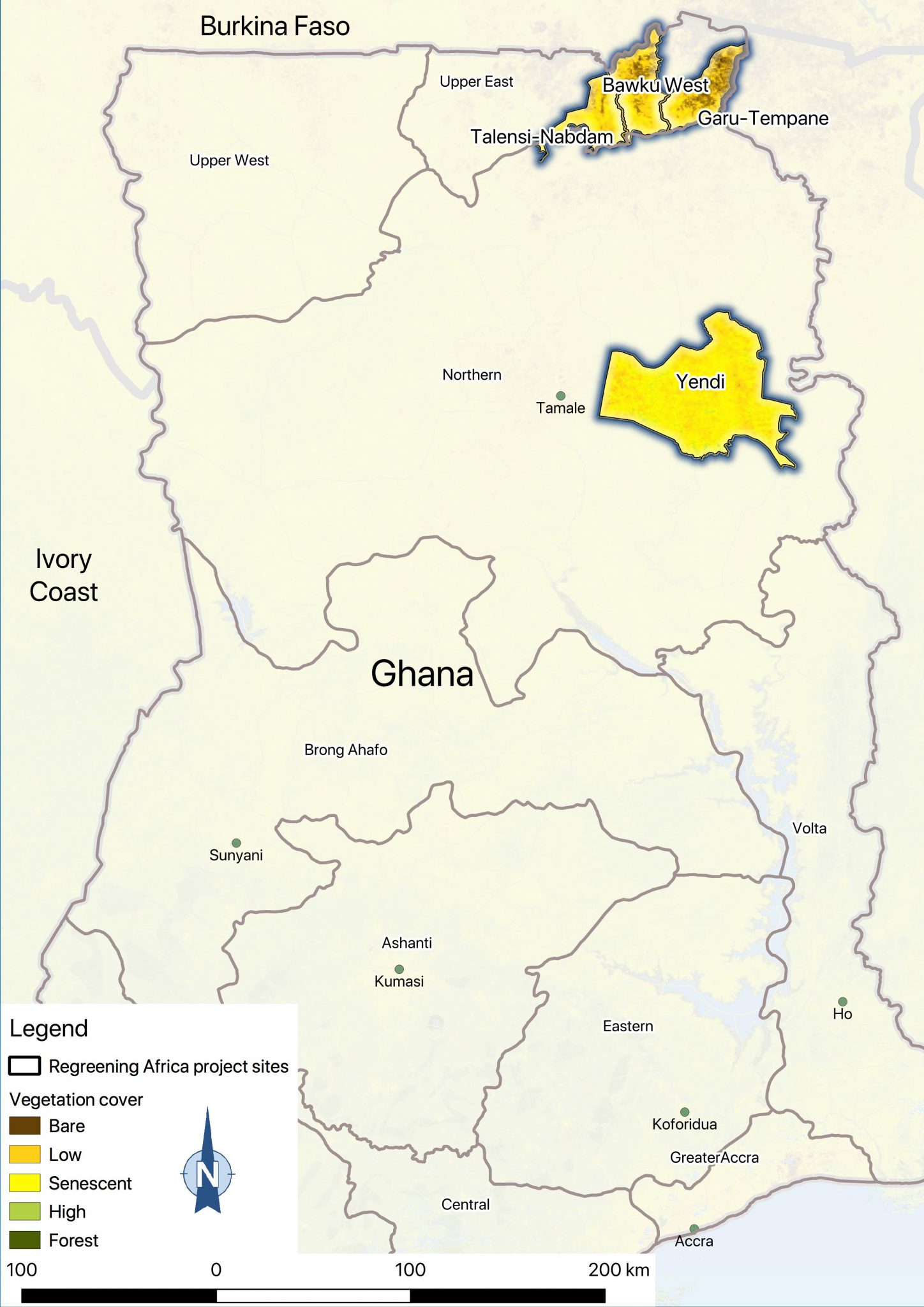 Expected Impact
Improved livelihoods, food security, and resilience to climate change
Restored ecosystem services, particularly, through sustainable land management
90,000 households supported with viable and inclusive regreening options
New evidence on the effectiveness of regreening generated to inform policy and practice
Farmers, governments and civil society organizations equipped with new knowledge, skills, tools and resources to support regreening
Regreening successes compiled and communicated to policy makers, governments and others